NAKED AMBITION
A holistic learning experience to change people's working world
SNAPSHOT
Naked Ambition inspires its clients to think and work differently, using UX methodology. They sought assistance with improving their clients' learning experience, while also helping to progress their goals of leaving something behind with the client, building a community and growing the business.
We analysed the end-to-end process and uncovered a number of areas where we could add value; we chose to focus on two:
Redesigning the client's learning experience; enabling Naked Ambition to leave something behind with the client and build a community
Increase efficiencies in back end processes to ensure a consistent experience for clients, while helping to support business growth
Naked Ambition have already started redesigning their service offering and are considering further courses of action based on our recommendations. 
THE JOURNEY
The client: Naked Ambition inspires its clients to think and work differently, using UX methodology. 
The brief: To enhance engagement of Naked Ambition's workshops, and standardise their service to support the growth of the business. 
The team: My teammates and I worked collaboratively throughout the project. I was responsible for stakeholder relationship and the report.
Duration: Two weeks.
Problem statement: "How might we create a holistic learning experience that empowers participants to change their world and fill them with passion to teach others."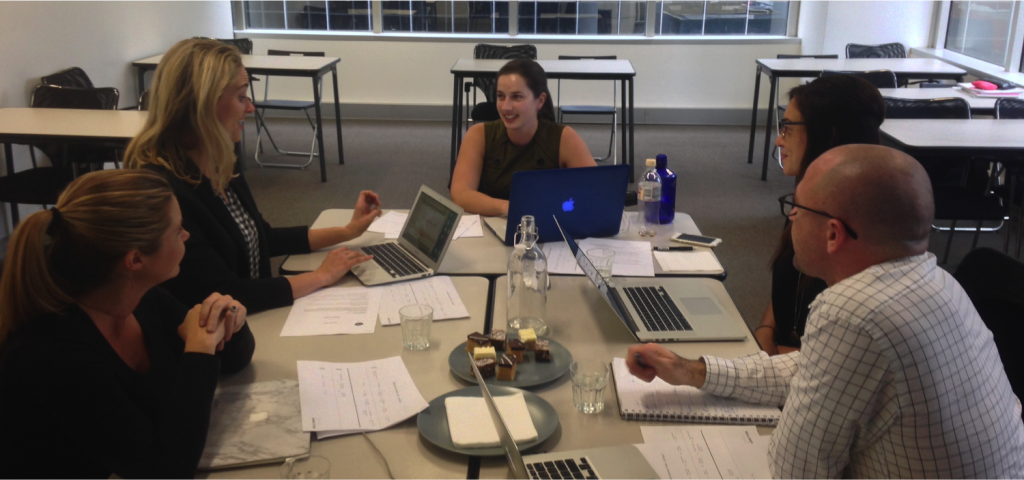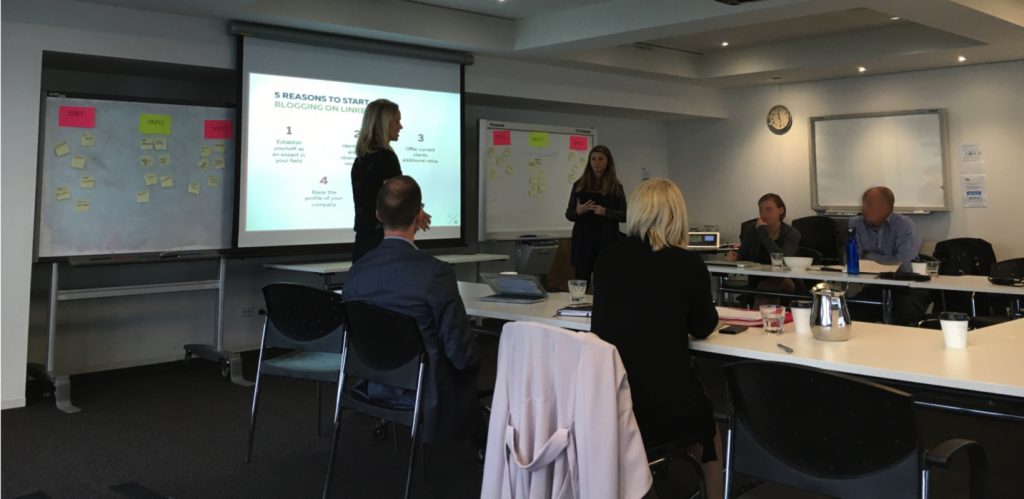 Discover
Our initial meeting brought up more questions than answers – should we definitely be focusing on the workshops? Do the clients see the 'issue' the same way as Naked Ambition? Where could we add the most value in such a short space of time? We undertook significant research to understand Naked Ambition's environmental landscape, corporate strategy and clients' perspectives.
MY ROLE     ❄     Identifying and researching competitors     ❄     Observing client interviews to understand their experiences     ❄     Attending a client workshop     ❄     Interviewing HR professionals to understand industry needs and selection processes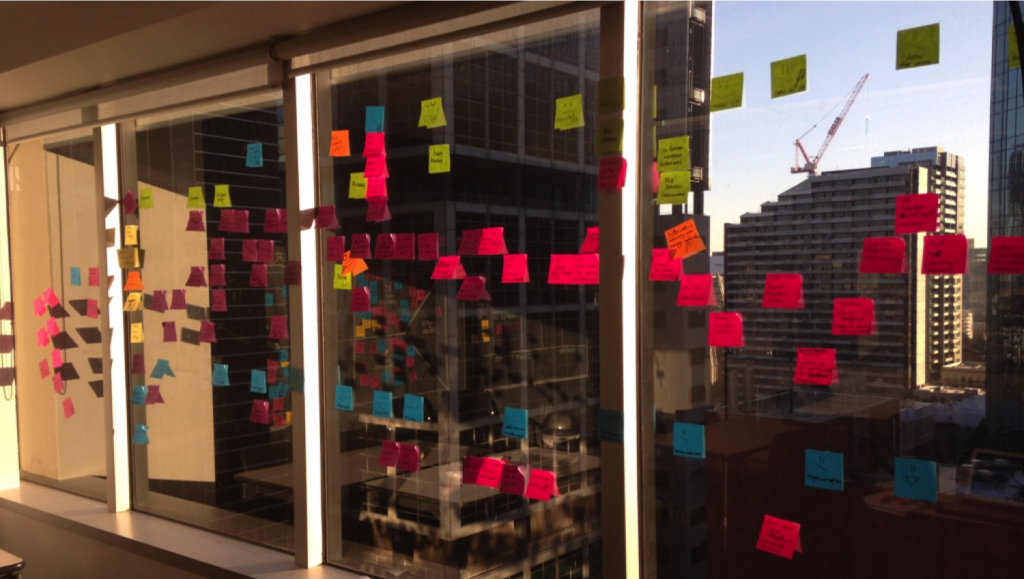 Define


Focusing on the client's journey and research insights, we identified three key stakeholders and mapped their journey to see where the greatest pain points were for Naked Ambition's clients.
We identified two insights that helped shape our scope and identify our problem statement, and linked directly to the corporate strategy (leave something behind with the client, build a community and grow the business):
Standardising services would be detrimental to the Naked Ambition business and brand, but there were opportunities to do this with their back end processes
A new service offering, which would provide further benefits to the client and directly linked to Naked Ambition's corporate strategy
MY ROLE     ❄     Identifying key insights from our research     ❄     Experience mapping of Naked Ambition and the three key stakeholders
Develop and Deliver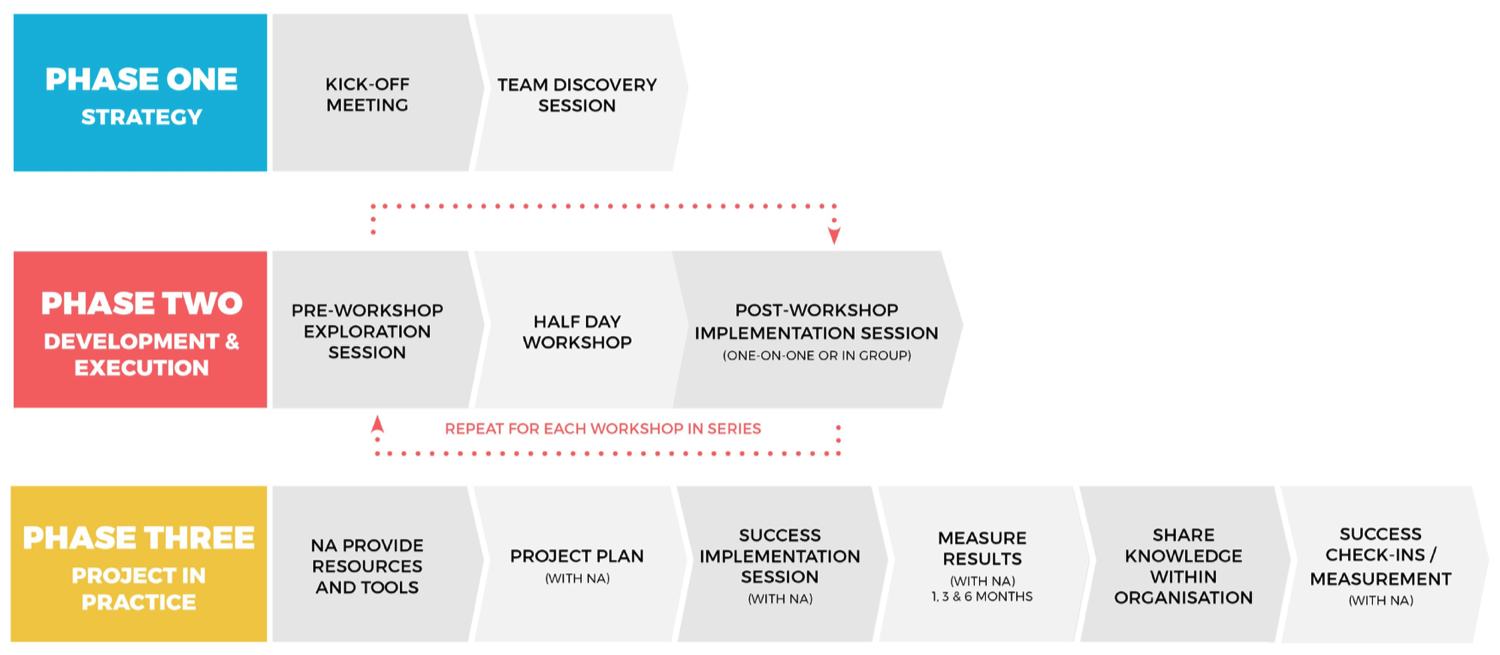 We believed that making tweaks to existing processes would have the biggest impact on the overall client experience.
User flows
We undertook additional research with HR professionals to understand learning and development from a sales, return on investment and implementation perspective; mapped out the ideal process and alternatives to adapt to differing budgets.
Templates
A number of templates were developed to create efficiencies in back end processes, ensure consistency of brand, to support growth of the business and discussions are taking place of short and long term measurements of success. 
Iterations to workshop survey questions
To improve the accuracy of data, help prove return on investment, demonstrate success and allow Naked Ambition to analyse trends, we iterated the surveys participants complete at workshops.
We found an app Naked Ambition could customise, which participants could use to quiz themselves. This would assist with implementation of learnings and help to keep engagement levels up between workshops.
Testing of the app was incredibly positive. It was quick and easy to use, people loved the instant response when answering a question and how interactive it was. The app also received an 85.42 per cent system usability scale (SUS) ranking – almost 20 per cent above the global average (68 per cent).
MailChimp Content Guidelines
Content guidelines were developed to help Naked Ambition with tracking and consistency of messaging, and ensure a consistent experience for all clients.
MY ROLE     ❄     High-level user flows of the ideal process and alternatives     ❄     Collaborative iteration with Naked Ambition on the ideal process     ❄     Conducting user testing     ❄     Interviewing HR professionals and employees to see if the ideal process would work in the corporate world and match learning needs     ❄     Iterating survey questions     
❄     Developing the workshop setup checklist and client discussion template     ❄     Iterations on the workshop builder and MailChimp content guidelines

We also provided a number of recommendations to assist Naked Ambition with taking the outcomes of this project further. These included reviewing their digital footprint, developing a return on investment model to assist with client discussions, and developing a communications approach to connect with participants and assist with learnings implementation.
Lessons Learnt
A service is a holistic experience. This needs to be factored in when making decisions and recommendations – changes to one aspect can have an impact on another, whether positive or negative.
Nothing is ever 100 per cent complete. Iteration is needed to match people's ways of working and, adapt to client's needs and the changing environment.
Collaborative design is a balancing act – it is sometimes necessary to hold back to ensure the client does not run forward with an idea before it is properly formulated.
Experience mapping design work by Melissa Cheah and EDapp design by Itay Ziv